Gotion High-tech and Edison Power Reached a Strategic Cooperation
2023-03-20 13:13:22
Gotion
Viewd

1224
On March 15th, Gotion High-tech and Edison Power Co., Ltd. entered into a strategic cooperation agreement to jointly develop large storage battery and recycling market in Japan, promote the popularization of renewable energy, and introduce Gotion's batteries into the Japanese market.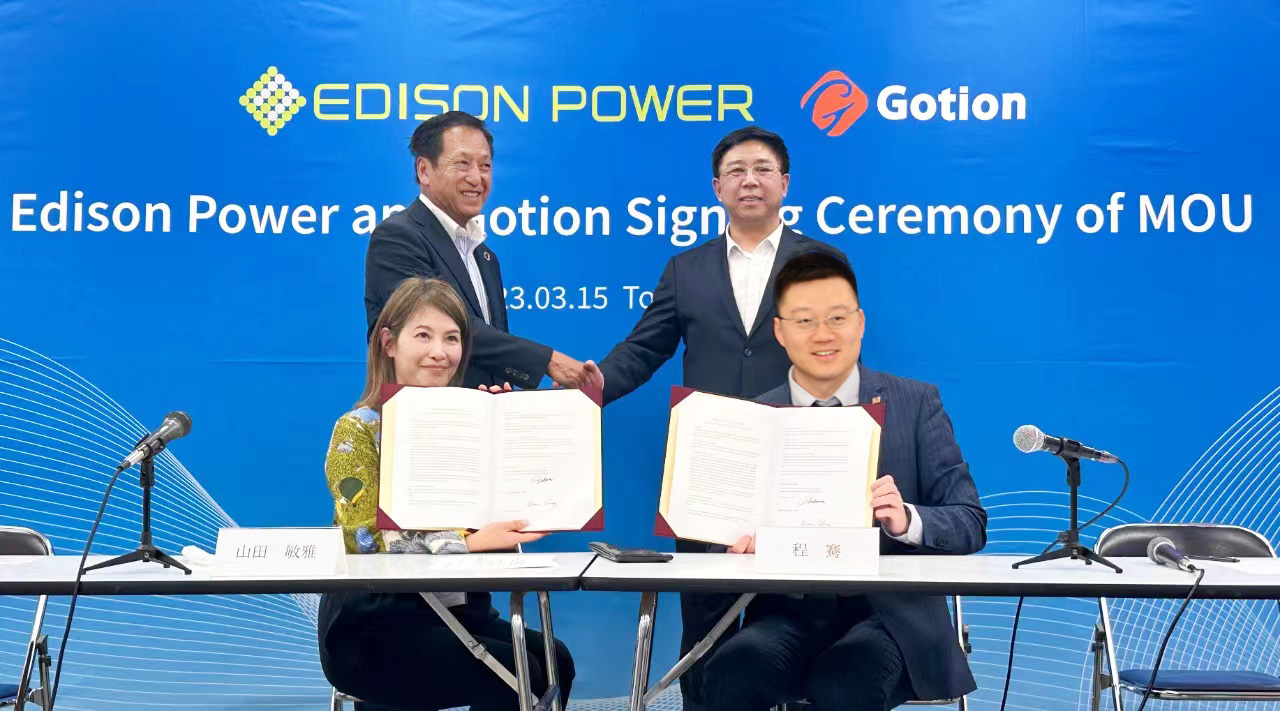 Edison Power's Vice President Chihiro Kotama (front left) and Gotion Global's Executive Vice President CHENG Qian (front right) signed the contract on behalf of both parties. Tosimasa Yamda , President of Edison Power (back left) and LI Zhen, Chairman of Gotion (back right) witness the signing.
With the development of renewable energy worldwide and the revision of Japan's Electricity Business Act in May 2022, the large storage battery industry in Japan has new opportunities.
According to the agreement, during the cooperation period, the two companies will develop market strategies respond to market demands, with a planned sales target of 1 GWh for the first year, rising to 2 GWh annually from the second year onwards. Gotion High-tech will provide cells, modules, BMS, etc., while Edison Power Co., Ltd. will be responsible for customer management, EPC services, energy storage system operation and maintenance, and other market-side services.
In addition,Gotion is a circular type from the possession of raw material mines for LFP (lithium iron phosphate) batteries to the recycling system after disposal. As a responsible international enterprise, Gotion High-tech will also work with Edison Power to establish a circular storage battery recycling system in Japan.
About Gotion High-Tech
A technology-driven international company focused on the development and production of power batteries. Headquartered in Hefei, the capital of Anhui Province, the company went public in May 2015 as the first power battery company in China to enter the capital market. It specializes in new energy businesses such as EV batteries, energy storage applications, transmission and distribution equipment, and has over 14 gigascale battery manufacturing bases worldwide. Our five battery materials-based businesses cover the entire battery supply chain, from upstream to downstream, and Gotion also have a battery recycling business.
About Edison Power
Edison Power is a renewable energy solutions company that started developing and manufacturing storage battery system in 1991. In addition to the storage battery system business, Edison Power is developing a solar power generation business, a biomass power generation business, a bark pellet production business, and a solar sharing business.