Gotion High-Tech and IAT USTC Sign Strategic Cooperation Agreement
2021-08-20 00:00:00
Gotion
Viewd

813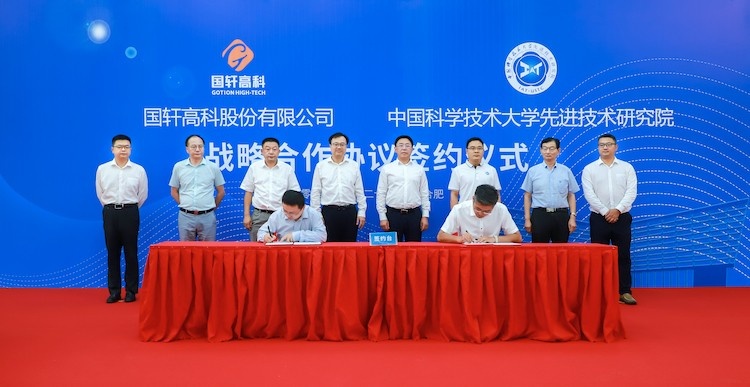 Zhang Hongli (right), Vice President of Gotion High-Tech General Institute of Engineering and Kang Yu (left), Executive Vice President of IAT USTC, signed the agreement on behalf of both parties.
According to the agreement, Gotion High-Tech and IAT USTC will concentrate on frontier fields such as lithium-ion batteries and energy applications and carry out cooperation through entrusted development, cooperative development and project instructions. IAT USTC will serve as a talent introduction and cultivation base of Gotion High-Tech and encourage talents with master's and doctor's degrees to apply what they have learned in a future career at Gotion. Gotion High-Tech will provide internship and employment opportunities to promote active interaction between scientific research and talent cultivation. In addition, Gotion will strive to foster the achievement transformation in biobased materials, green preparation technology, integrated application of clean energy and new additives through the cooperation in frontier fields, including lithium-ion batteries and energy utilization.

Fu Yao, Deputy Secretary of the Party Committee of USTC and First Secretary of the Party Committee of IAT said that Gotion High-Tech is a leading enterprise in the industry thanks to its over ten years of experience and that it has developed standards for the battery field in China. IAT has brought the talent resources of USTC into full play, attracted a large number of R&D talents in the new energy industry and accumulated numerous scientific research achievements to ensure its future contributions to the cooperation. He also mentioned that the earnest cooperation will further promote resource matching and realize competitive integration of institutes and enterprises. The cooperation will also give more fresh impetus to the regional economic development of Hefei and provide more scientific and technological strength to the development of the new energy battery industry.

Li Zhen, Chairman of Gotion High-Tech said that keeping up with the world's scientific development trend, insisting on independent innovations and promoting achievement transformation is the shared concept of the two parties. In addition, Gotion and IAT will move forward in the same direction to help China reach its "dual carbon" goals, one of the key aims of the cooperation. With the cooperation with IAT USTC and support from their experts and scientists, Gotion High-Tech will face a bright future and make big breakthroughs in the new energy industry, making invaluable contributions to China's energy revolution.