Gotion High-Tech Wins Volkswagen Cell Test Lab Qualification
2023-02-21 20:41:56
Gotion
Viewd

590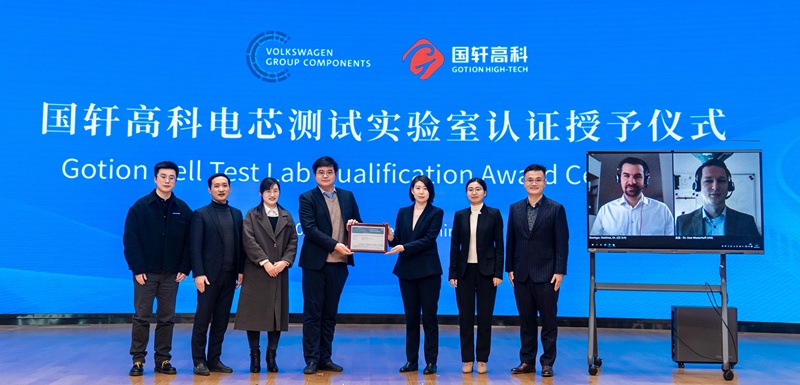 Ceremony site
On February 21, Gotion High-tech was officially granted the Volkswagen Cell Test Lab qualification certificate. This certification marks the recognition of Gotion's test capability by Volkswagen and its formal entry into the world-leading technological management system.
As one of the world's largest automotive groups, Volkswagen Group has raised more stringent requirements than global industrial standards for such fields as reliability validation, test period and environment, and innovative testing methods, so as to ensure product reliability, safety, and high performance through the strict control over product performance limit tests, safety boundary exploration and representativeness of test characterization results.
Covering an area of more than 60,000 square meters, the Gotion High-Tech Validation Engineering Institute has established four validation bases in Xinzhan, Baohe, and Lujiang of Hefei and Jiading of Shanghai, and four test platforms for cell material and component testing, cell testing, system testing, and safety & reliability testing, enabling the full-size and life-cycle validation analysis from raw materials to battery systems. The laboratory was accredited by CNAS in 2015, and by domestic and international professional organizations, such as TUV, CSA, and CCS, demonstrating that its validation capability has reached a global-leading level. In recent years, the Validation Engineering Institute has been committed to the verification and development of Volkswagen's new system of cells and providing validation and testing cooperation support for the whole platform system of Volkswagen Group. Both parties have given play to each other's advantages and realized technological complementation and resource sharing.
The successful certification marks Gotion's formal entry into the world-leading technological management system. In the future, Gotion will continue to support Volkswagen's project validation with high-level technology and high-quality products. Both parties will strengthen cooperation and complement each other to facilitate the realization of carbon neutrality."
Li Zhen (right 6 in the front row), Chairman of Gotion High-tech, Frank Engel (right 7 in the front row), Executive Vice President of Volkswagen China, Olaf Korzinovski (right 8 in the front row),Chief Operation Officer of Volkswagen Group Components attended and witnessed the ceremony.